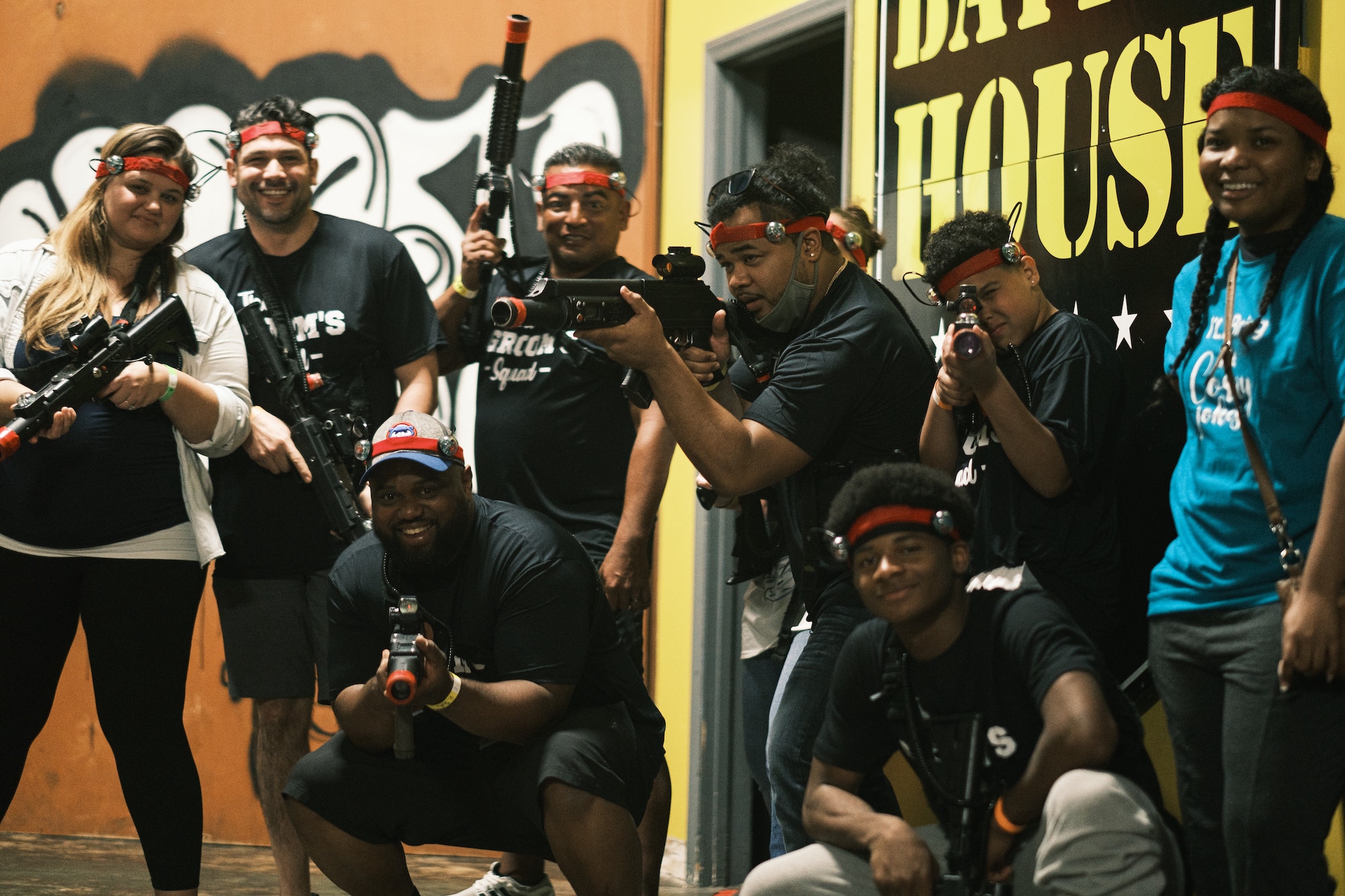 FAYETTEVILLE
Address
365 Westwood Shopping Center, Fayetteville, North Carolina 28314
Phone
Hours
MON Closed
TUE Closed
WED 4PM–9:15PM
THU 4PM–9:15PM
FRI 4PM–11PM
SAT 10:45AM–11PM
SUN 11:15AM–7:15PM
Real-life strategy to reach your goals.
Experience the thrill of laser tag in our state-of-the-art, 14,000 square foot arena. Located in Fayetteville, our facility offers endless excitement for you and your loved ones. Battle House's arena boasts high-energy gameplay, making it the perfect place for a day of family fun or a group outing with friends. Don't miss out on the chance to conquer the battlefield at our one-of-a-kind combat laser tag facility.
10 separate 2-story buildings

Hi tech and low tech props
Deals
Countdown to Summer
Through June 9
Countdown to Summer
Get $14 off through June 9 with code CDTS23, Wed-Fri.
Memorial Weekend
May 26-29
Memorial Weekend
Buy 2 tickets, get 2 free to use at the same battle time.
Father's Day
Dads play free with a paying child our spouse all weekend!
$34 Games
Save $9 on our 1.5 hour games on Wednesdays and Thursdays.
Back to Back Games
Play two back-to-back 1 hour games for $16 off.
Military Discount
Wed - Sun
Military Discount
Prior and current military and first responders get 10% off Wed-Thu and Sat-Sun and $10 off Fri with valid ID.
Raptor
Semi-Auto
8 mags
30 rounds
25% damage
4 hits to kill
2 sec reload
400 rpm
Dragunov
Semi-Auto
20 mags
10 rounds
35% damage
3 hits to kill
3 sec reload
400 rpm
FAL Sniper
Semi-Auto
20 mags
1 round
100% damage
1 hit to kill
4 sec reload
Shotgun
Semi-Auto
8 mags
5 rounds
50% damage
2 hits to kill
3 sec reload
350 rpm
Yeet Cannon
Full-Auto
10 mags
15 rounds
17% damage
6 hits to kill
1 sec reload
650 rpm
XM4
Full-Auto
8 mags
40 rounds
25% damage
4 hits to kill
4 sec reload
450 rpm
AK-47
Full-Auto
8 mags
40 rounds
35% damage
3 hits to kill
5 sec reload
300 rpm
P90
Full-Auto
10 mags
20 rounds
15% damage
6 hits to kill
2 sec reload
550 rpm
Pistol
Semi-Auto
16 mags
5 rounds
50% damage
2 hits to kill
3 sec reload
350 rpm
Raptor
Semi-Auto
8 mags
30 rounds
25% damage
4 hits to kill
2 sec reload
400 rpm
XM4
Full-Auto
8 mags
40 rounds
25% damage
4 hits to kill
4 sec reload
450 rpm
Dragunov
Semi-Auto
20 mags
10 rounds
35% damage
3 hits to kill
3 sec reload
400 rpm
AK-47
Full-Auto
8 mags
40 rounds
35% damage
3 hits to kill
5 sec reload
300 rpm
FAL Sniper
Semi-Auto
20 mags
1 round
100% damage
1 hit to kill
4 sec reload
P90
Full-Auto
10 mags
20 rounds
15% damage
6 hits to kill
2 sec reload
550 rpm
Shotgun
Semi-Auto
8 mags
5 rounds
50% damage
2 hits to kill
3 sec reload
350 rpm
Pistol
Semi-Auto
16 mags
5 rounds
50% damage
2 hits to kill
3 sec reload
350 rpm
Yeet Cannon
Full-Auto
10 mags
15 rounds
17% damage
6 hits to kill
1 sec reload
650 rpm