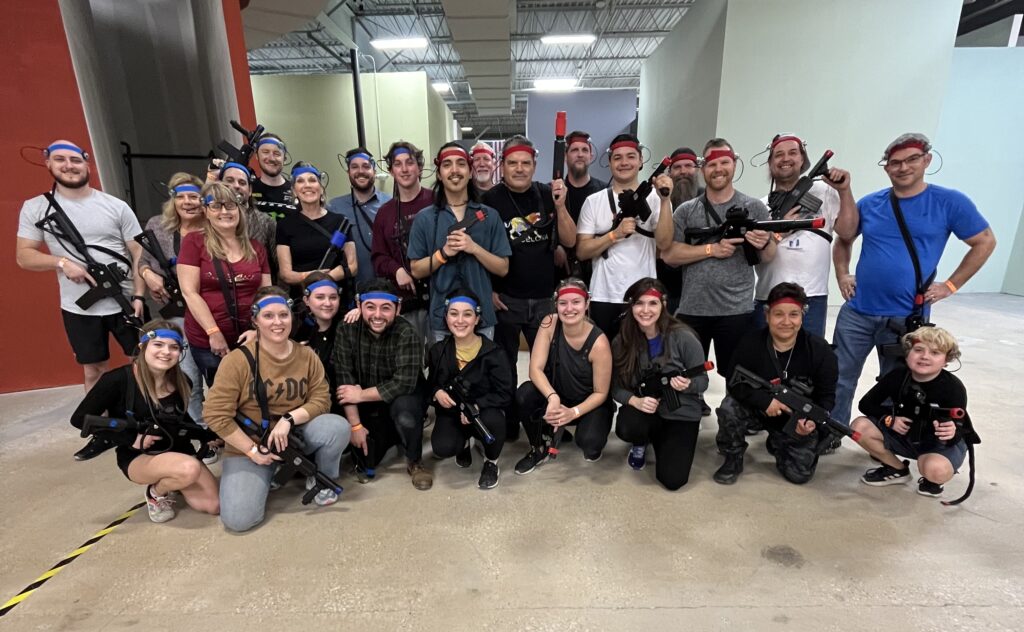 PLANO
Address
2300 Coit Rd #400 Plano, Texas 75075
Phone
Hours
MON Closed*
TUE Closed*
WED 4PM–8:45PM
THU 4PM–8:45PM
FRI 4PM–10PM
SAT 11AM–10PM
SUN 11AM–6:15PM
*By appointment only.
Looking for an exciting new challenge? Come test your skills at our brand new laser tag facility, where you'll find 14,000 square feet of state-of-the-art gaming space. Our spacious layout provides plenty of room for you to strategize and outmaneuver your opponents. Whether you're a seasoned pro or new to laser tag, you'll find plenty of challenges and fun at our facility. Book your ticket today!
Eight separate 2-story buildings

Hi tech and low tech props
Student Discount
Students play for just $10 on weekdays. Play a second battle for just $10 more.
Mil/1st Responder Discount
Weekends
Mil/1st Responder Discount
Prior and active duty military, 1st responders, and nurses get 10% off every weekend.
Stay and Play
Play an additional 1 hour battle for just $10 more!
Private Events
Private Events include exclusive use of the arena and one of our event rooms after the session.
Please call (972) 809-9164 to book.
Viper
Semi-Auto
8 mags
30 round
25% damage
4 hits to kill
2 sec reload
Sniper
Semi-Auto
20 mags
1 round
100% damage
1 hit to kill
4 sec reload
SMG
Full-Auto
10 mags
20 rounds
15% damage
6 hits to kill
2 sec reload
550 rpm
Yeet Cannon
Full-Auto
10 mags
15 rounds
17% damage
6 hits to kill
1 sec reload
650 rpm
XM4
Full-Auto
8 mags
30 rounds
25% damage
4 hits to kill
4 sec reload
450 rpm
Pistol
Semi-Auto
16 mags
5 rounds
3 hits to kill
3 sec reload
350 rpm
Shotgun
Semi-Auto
8 mags
5 rounds
50% damage
2 hits to kill
3 sec reload
350 rpm
Viper
Semi-Auto
8 mags
30 round
25% damage
4 hits to kill
2 sec reload
Sniper
Semi-Auto
20 mags
1 round
100% damage
1 hit to kill
4 sec reload
XM4
Full-Auto
8 mags
30 rounds
25% damage
4 hits to kill
4 sec reload
450 rpm
SMG
Full-Auto
10 mags
20 rounds
15% damage
6 hits to kill
2 sec reload
550 rpm
Pistol
Semi-Auto
16 mags
5 rounds
3 hits to kill
3 sec reload
350 rpm
Yeet Cannon
Full-Auto
10 mags
15 rounds
17% damage
6 hits to kill
1 sec reload
650 rpm
Shotgun
Semi-Auto
8 mags
5 rounds
50% damage
2 hits to kill
3 sec reload
350 rpm