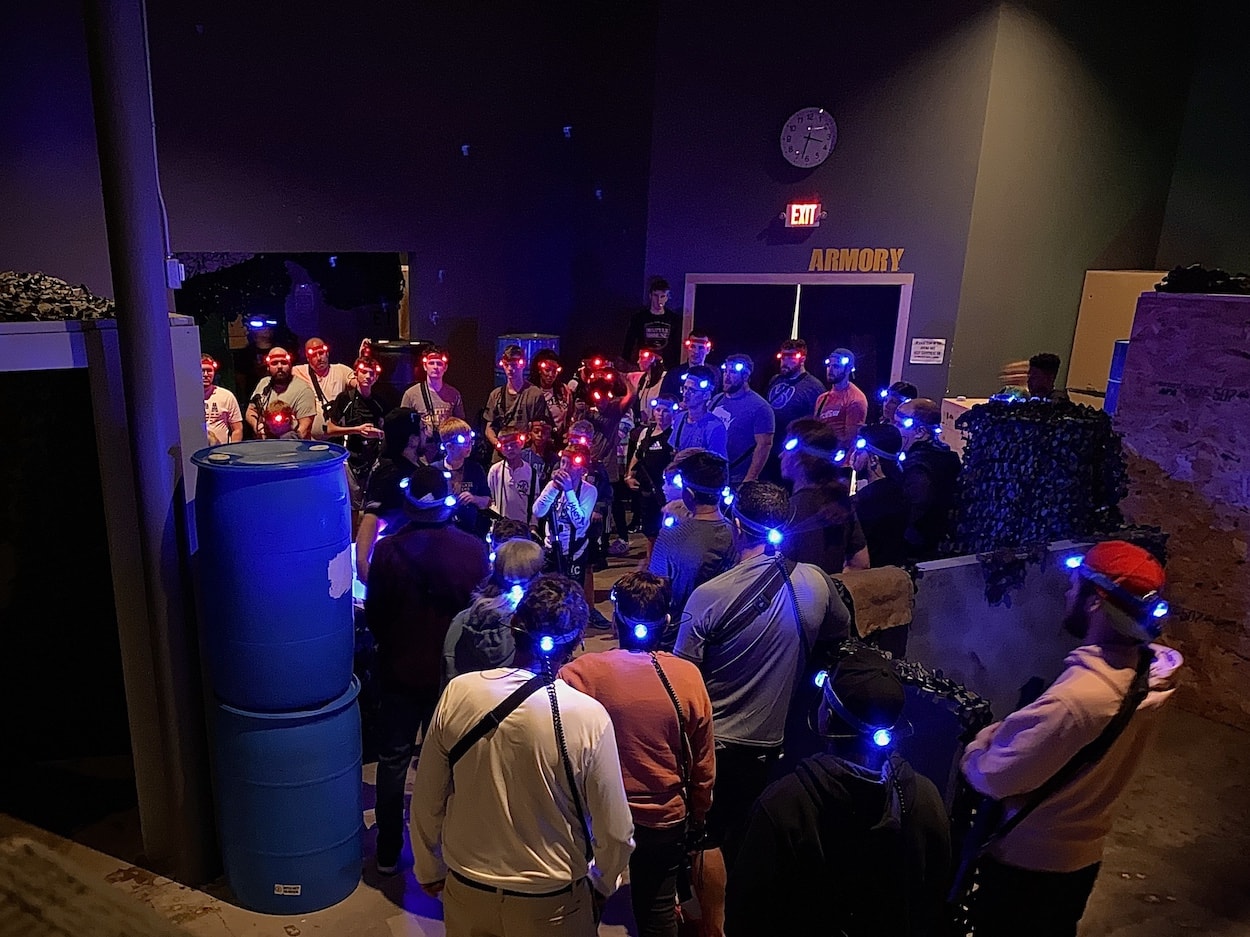 WAUKESHA
Address
W229N1400 Westwood Dr STE C, Waukesha, WI 53186
Phone
Hours
MON Closed*
TUE Closed*
WED Closed*
THU 3:45PM–8:45PM
FRI 4:45PM–10:45PM
SAT 10:45AM–10:45PM
SUN 10:45AM–8:45PM
*By appointment only.
Engage in simulated urban combat in our massive arena complete with passageways and a crashed helicopter. Come by yourself, with friends, your team, or co-workers to battle in mission-based, tactical laser tag with the most realistic equipment on the planet in Waukesha.
6 buildings and multiple elevated positions

Armored personnel carrier

Hi tech and low tech props
Deals
Memorial Weekend
May 26-29
Memorial Weekend
Buy 2 tickets, get 1 free to use at the same battle time.
Father's Day
Dads play free with a paying child our spouse all weekend!
Student Discount
Students play one 1hr game for $20 or two for $30 every Thursday.
Mil/1st Responder Discount
Every Day
Mil/1st Responder Discount
Prior and active duty military, 1st responders, and nurses get 10% off every day.
Late Night Deal
Get $5 off at the last battle time of the day every Friday and Saturday.
Double Time
Play two back-to-back games and get a free non-alcoholic beverage on Friday or Saturday for just $55 (save $33).
Group Deal
Groups of 21 or more people play for $38 each (save $5) on Friday and Saturday.
Thu/Sun Deal
Play two back-to-back 1hr games on Thursday or Sunday for just $40 (save $20).
Deals cannot be combined.
Individual Tickets
All tickets include a Standard Issue MP5 Stinger. Other weapon upgrades are available to purchase!
Includes 10-15 minutes for Safety Briefing.
Parties
Parties are public events and other guests may play at the same time.
Party packages include access to our Party Room.
The guest of honor will receive a free Weapon Upgrade, and T-Shirt.
Private Events
Private Events include exclusive use of the arena and one of our event rooms after the session. Please call (262) 258-9003 to book.
Vityaz
Semi-Auto
8 mags
30 rounds
4 hits to kill
2 sec reload
400 rpm
XM4
Full-Auto
10 mags
40 rounds
4 hits to kill
4 sec reload
450 rpm
AK-74
Full-Auto
10 mags
40 rounds
3 hits to kill
4 sec reload
350 rpm
Viper SMG
Full-Auto
10 mags
15 rounds
6 hits to kill
1 sec reload
600 rpm
FAL Sniper
Semi-Auto
10 mags
5 rounds
2 hits to kill
3 sec reload
250 rpm
Shotgun
Semi-Auto
10 mags
5 rounds
2 hits to kill
4 sec reload
250 rpm
MP5 Stinger
Full-Auto
8 mags
30 rounds
4 hits to kill
2 sec reload
400 rpm
MP5 Stinger
Standard Issue
MP5 Stinger
Semi-Auto
8 mags
30 rounds
4 hits to kill
2 sec reload
400 rpm
AK-74U
Full-Auto
10 mags
40 rounds
3 hits to kill
4 sec reload
350 rpm
Viper
Full-Auto
8 mags
30 rounds
4 hits to kill
2 sec reload
400 rpm
T7 Raptor SMG
Full-Auto
10 mags
20 rounds
6 hits to kill
1 sec reload
500 rpm
P90 SMG
Full-Auto
10 mags
50 rounds
7 hits to kill
3 sec reload
550 rpm
Pistol
Semi-Auto
20 mags
25 rounds
5 hits to kill
1 sec reload
450 rpm
Vityaz
Semi-Auto
8 mags
30 rounds
4 hits to kill
2 sec reload
400 rpm
MP5 Stinger
Standard Issue
MP5 Stinger
Semi-Auto
8 mags
30 rounds
4 hits to kill
2 sec reload
400 rpm
XM4
Full-Auto
10 mags
40 rounds
4 hits to kill
4 sec reload
450 rpm
AK-74
Full-Auto
10 mags
40 rounds
3 hits to kill
4 sec reload
350 rpm
AK-74U
Full-Auto
10 mags
40 rounds
3 hits to kill
4 sec reload
350 rpm
Viper
Full-Auto
8 mags
30 rounds
4 hits to kill
2 sec reload
400 rpm
Viper SMG
Full-Auto
10 mags
15 rounds
6 hits to kill
1 sec reload
600 rpm
T7 Raptor SMG
Full-Auto
10 mags
20 rounds
6 hits to kill
1 sec reload
500 rpm
FAL Sniper
Semi-Auto
10 mags
5 rounds
2 hits to kill
3 sec reload
250 rpm
P90 SMG
Full-Auto
10 mags
50 rounds
7 hits to kill
3 sec reload
550 rpm
Shotgun
Semi-Auto
10 mags
5 rounds
2 hits to kill
4 sec reload
250 rpm
Pistol
Semi-Auto
20 mags
25 rounds
5 hits to kill
1 sec reload
450 rpm
MP5 Stinger
Full-Auto
8 mags
30 rounds
4 hits to kill
2 sec reload
400 rpm