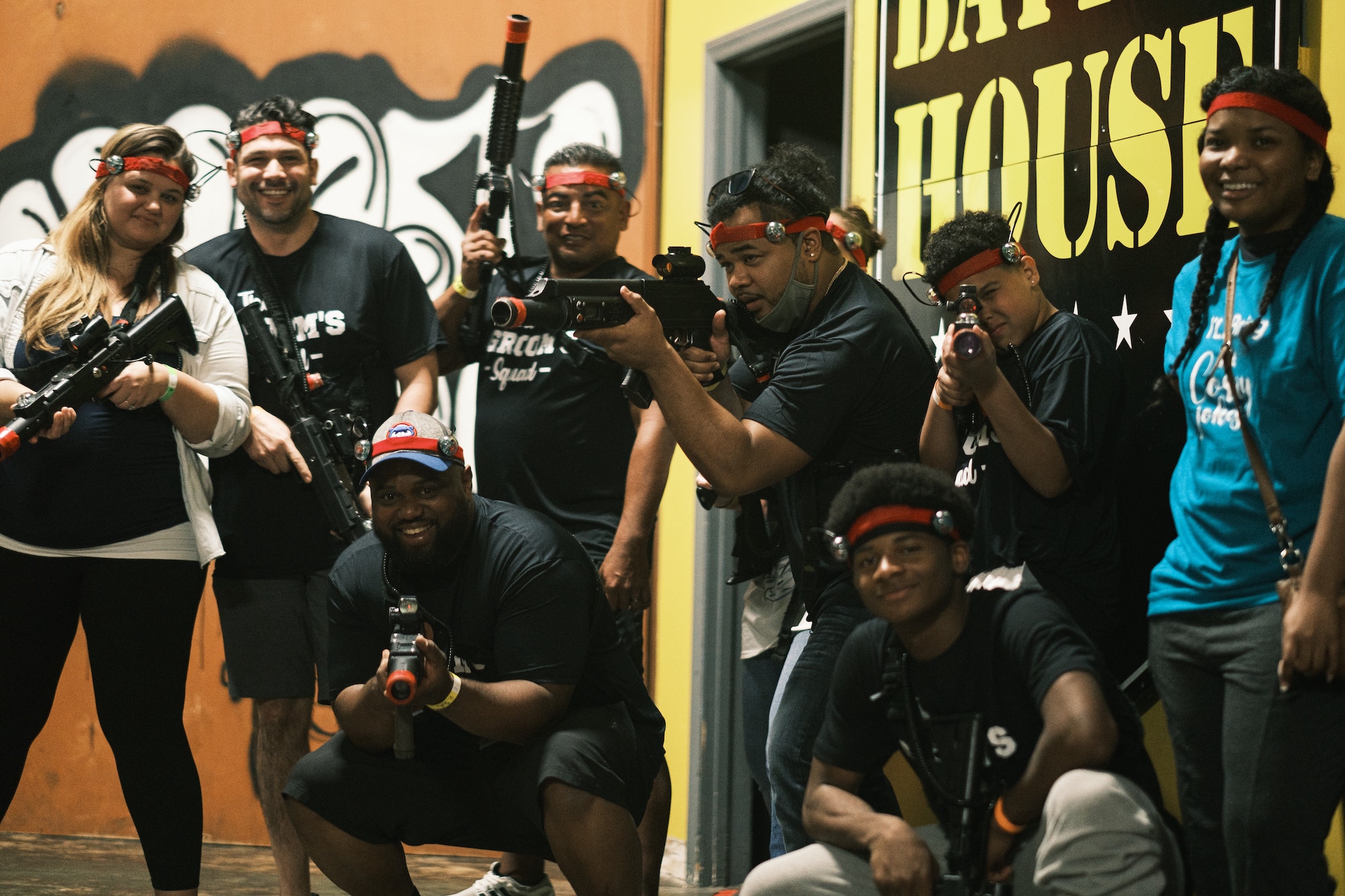 Wilmington
Address
1817 Hall Dr, Wilmington, NC 28405
Phone
Hours
MON Closed
TUE Closed
WED 4PM–9:15PM
THU 4PM–9:15PM
FRI 4PM–11PM
SAT 10:45AM–11PM
SUN 11:15AM–6:45PM
Our massive indoor arena is a must-visit destination for laser tag enthusiasts. With 10,000 square feet of combat gaming space, there's plenty of room for you and your family and friends to run, duck, and dodge your way to victory. Our state-of-the-art arena is filled with a variety of props and obstacles to provide an exciting and immersive gaming experience. Come see what all the buzz is about and book your spot today at Battle House Laser Tag!
High-tech and low-tech props
Deals
Countdown to Summer
Through June 9
Countdown to Summer
Get $14 off through June 9 with code CDTS23, Wed-Fri.
Memorial Weekend
May 26-29
Memorial Weekend
Buy 2 tickets, get 2 free to use at the same battle time.
Father's Day
Dads play free with a paying child our spouse all weekend!
$34 Games
Save $9 on our 1.5 hour games on Wednesdays and Thursdays.
Back to Back Games
Play two back-to-back 1 hour games for $16 off.
Military Discount
Fri - Sun
Military Discount
Prior and current military and first responders get $10 off every Friday and 10% off every Saturday and Sunday with valid ID.
Individual Tickets
All tickets include a Standard Issue Raptor gun. Other weapon upgrades are available to purchase!
Includes 10-15 minutes for Safety Briefing.
Parties
Parties are public events and other guests may play at the same time.
Party packages include access to our Party Room.
The guest of honor will receive a free Weapon Upgrade, Battle Pack, and T-Shirt.
Raptor
Semi-Auto
8 mags
30 rounds
25% damage
4 hits to kill
2 sec reload
400 rpm
XM4
Full-Auto
8 mags
40 rounds
25% damage
4 hits to kill
4 sec reload
450 rpm
AK-47
Full-Auto
10 mags
40 rounds
35% damage
3 hits to kill
5 sec reload
300 rpm
SMG
Full-Auto
10 mags
20 rounds
15% damage
6 hits to kill
1 sec reload
600 rpm
Sniper
Semi-Auto
20 mags
1 round
100% damage
1 hit to kill
4 sec reload
MK-14
Semi-Auto
20 mags
40 rounds
35% damage
3 hits to kill
3 sec reload
350 rpm
Stinger
3 Round Burst
10 mags
30 rounds
25% damage
4 hits to kill
2 sec reload
400 rpm
Shotgun
Semi-Auto
8 mags
5 rounds
50% damage
2 hits to kill
3 sec reload
350 rpm
Pistol
Semi-Auto
16 mags
5 rounds
50% damage
2 hits to kill
3 sec reload
350 rpm
Yeet Cannon
Full-Auto
10 mags
15 rounds
17% damage
6 hits to kill
1 sec reload
650 rpm
Raptor
Semi-Auto
8 mags
30 rounds
25% damage
4 hits to kill
2 sec reload
400 rpm
AK-47
Full-Auto
10 mags
40 rounds
35% damage
3 hits to kill
5 sec reload
300 rpm
Sniper
Semi-Auto
20 mags
1 round
100% damage
1 hit to kill
4 sec reload
Stinger
3 Round Burst
10 mags
30 rounds
25% damage
4 hits to kill
2 sec reload
400 rpm
Pistol
Semi-Auto
16 mags
5 rounds
50% damage
2 hits to kill
3 sec reload
350 rpm
XM4
Full-Auto
8 mags
40 rounds
25% damage
4 hits to kill
4 sec reload
450 rpm
SMG
Full-Auto
10 mags
20 rounds
15% damage
6 hits to kill
1 sec reload
600 rpm
MK-14
Semi-Auto
20 mags
40 rounds
35% damage
3 hits to kill
3 sec reload
350 rpm
Shotgun
Semi-Auto
8 mags
5 rounds
50% damage
2 hits to kill
3 sec reload
350 rpm
Yeet Cannon
Full-Auto
10 mags
15 rounds
17% damage
6 hits to kill
1 sec reload
650 rpm